BULLET FOR MY VALENTINE WITH TRIVIUM & TOOTHGRINDER
May 8, 2018 @ 6:30 pm
$27.50 - $32.00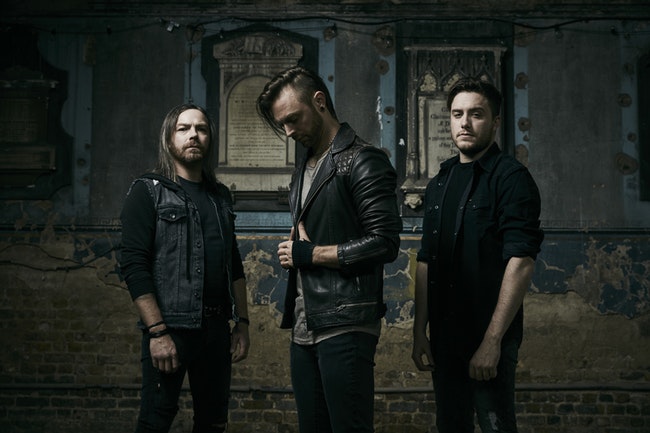 Bullet For My Valentine bare their teeth like never before on the aptly-titled VENOM (RCA Records).
The UK metal powerhouse Matt Tuck [vocals, guitar], Michael "Padge" Paget [guitar], and Michael "Moose" Thomas [drums]—didn't hold anything back or pull any punches. When it came time to strike on their fifth full-length record, they rallied around one unified goal.
"We wanted to cut an album that was purely us inside and out," asserts Tuck. "We thought about what makes us who we are and made our band what it is in the first place. We decided to get that fucking energy back and unleash it for no other reason than we simply have to. So, that's exactly what we did."
Following a whirlwind tour cycle behind 2013's Temper Temper, which debuted at # 1 on the Billboard Hard Music Albums Chart and Top 15 on the Billboard Top 200, the band re-shifted and re-aligned its focus. Amicably parting ways with original bassist Jason "Jay" James, they approached recording from a different angle.
In the past, writing sessions transpired over compact periods of time. However, leading up to VENOM, they wrote for nearly six months off and on in Padge's own home studio, allowing the material the opportunity to take shape and the vision to coalesce freely in an open environment. Rather than choose to work alongside a producer they'd never met, they tapped the talents Colin Richardson [Slipknot, Machine Head, Trivium], the man behind their first EP Hand of Blood as well as their two gold-certified opuses 2005's The Poison and 2008's Scream Aim Fire, and co-producer Carl Bown.
"We didn't want any kind of bonding sessions while we were making the record," explains Tuck. "We didn't want any clashes of egos, personalities, senses of humor, or anything like that. We called Colin, and he put us in touch with Carl—as they've worked together on virtually everything together for the past five years. We just talked about what we wanted this record to sound like, what we wanted to achieve, what was pissing us off, what we felt was weak, and what we felt was strong. We just poured our hearts. It felt so real, and the connection was instantly there. Having Colin back in the room was the best feeling. It contributed massively to the record's sound."
The musicians holed up in London's Metropolis Studio from February through April 2015. Tuck handled bass duties for recording and encouraged a more vital, vibrant, and vicious instrumental attack around.
"Anything that went a slight bit too melodic or pop, we scrapped right away," the frontman chuckles. "We wanted to keep this as dark as possible. It was very important that the album sounded intense. That's what our fans loved the most since day one."
The introductory taste of VENOM arrived with the opening track "No Way Out." Fusing together a tight, technical, and taut thrash stampede, it's an intricate and infectious battlecry for the record. Within just two weeks of release in May 2015, it garnered over 1 million YouTube/VEVO views, proving Tuck's theory.
"The song revisits my younger days growing up in a shitty part of Wales where there was no hope for anyone," he sighs. "You went to a shitty school. Teachers didn't give a fuck about you. You weren't nurtured. You weren't pushed in any direction you were good at. The only thing I ever wanted to do with myself was music, but they wouldn't let me. It's about feeling trapped but having ambition and not being able to express yourself. I felt like there was no way out of anything in my life. 'No Way Out' captures those frustrations. I found that dark headspace again and seized it."
Then, there's the first single "You Want a Battle? (Here's a War)." A bombastic beat bleeds into an anthemic refrain meant to be chanted along to in stadiums. At the same time, Tuck and Padge ignite a crossfire of guitars, exploding into fret-burning leads. It also hits a personal note for the vocalist.
"When I was in school, I would get my fair share of ass-whoopings because I played music, had a band, and grew my hair long," he says. "All of this fucking anger boiled up inside from being picked on and mentally and physically abused. I wasn't taking it anymore. It's a big statement single and something that I think a lot of our fans—both my age and much younger—will identify with. We all go through difficult times, but there's light at the end of that tunnel."
The title track "Venom" nods to the group's knack for a brooding ballad, offering up an emotional and evocative reprieve from the relentless onslaught mid-record.
"It's a dark love song, which we always love to include on the album," he admits. "It's about being in a relationship with someone who's just a piece of work. VENOM is a reference to this individual being poisonous, ugly, dangerous, and just bad for you. You don't want this relationship anymore. It's got that edgy element but sung in a melodic and beautiful way. It's a touchstone of what we do."
The group has firmly etched their place within the modern metal pantheon by doing "what they do." An international phenomenon, their album sales cumulatively exceed 5 million globally. They've accumulated 220 million-plus YouTube plays, while covering magazines ranging from Revolver and Alternative Press to Metal Hammer, Kerrang!, and Total Guitar. They've garnered the Metal Hammer "Golden God" Award for "British Band" in 2006 and 2010 and even notched a staggering total of seven Kerrang! Awards. They also remain a live juggernaut tearing up stages everywhere from Download in the UK to Rockstar Mayhem Festival in North America.
Now joined by fellow Welshman Jamie Matthias on bass and backing vocals, Bullet For My Valentine will launch VENOM stateside touring on one of the year's biggest metal jaunts, Summer's Last Stand, with Slipknot and Lamb of God. Everything points to these musicians leaving an indelible mark on the genre with VENOM.
"I'd love for everyone to enjoy the music and just walk away going, 'Bullet is fucking relevant. It's a sick album.' I think it's the best record we've ever done. We didn't want to overthink or overproduce anything. We harnessed what this band was in the first place. We kept things simple and let the songs do the talking."
With their fifth full-length album, In Waves, Trivium make a crucial statement.
It's a statement about writing their own rules about what it means to be a contemporary metal band. It's a statement that encompasses boundary-defying music, moods, movement, and visuals. It's a statement that's emblematic of their evolution. It's a statement that's going to impact anyone open to it.
While on the road in 2009, the first rumblings of In Waves began. Trivium vocalist and guitarist Matt Heafy had already started pondering the direction the band would take for their fifth offering. So far, they'd excelled at the standard hallmarks of the genre, and he wanted to do something new.
Each one of their albums—Ascendancy (2005), The Crusade (2006), and Shogun (2008)—garnered unanimous critical and fan acclaim. Ascendancy cemented the band's place in the metal-verse, selling over half-a-million copies worldwide.
Shogun debuted at #23 on the Billboard Top 200 and in the top 100 in 18 other countries. All over the globe, they rose to the ranks of metal elite, sharing the stage with everyone from Iron Maiden and Slipknot and dominating festivals such as Download, Rock Star Energy Drink Mayhem Festival and OZZfest. They'd done everything the way that a metal band is supposed to. However, even with all of this success, Heafy and his cohorts guitarist Corey Beaulieu, bassist Paolo Gregoletto, and drummer Nick Augusto had gotten frustrated with the state of metal and yearned to break out.
"In my opinion, this album really was a response to what we've ever done as a band and everything we're seeing in contemporary music," declares Heafy. " We want to take metal a step further. We're not going to tell anyone what In Waves means. We want to put imagination and creativity back in the mind of the listener."
Trivium let the music do the talking this time around. The title track and first single hinges on a pummeling polyrhythmic guitar groove that breaks into one of the band's most infectious choruses just before a haunting guitar melody sails off into the distance. Rather than simply modifying their sound, they expanded it with elegant sonic textures and crushingly calculated chaos. The technical prowess is tempered by a melodic sensibility often unexplored by bands in this genre.
About the song, Gregoletto explains, "To me, the 'In Waves' riff is what anger and hopelessness I felt would sound like if emoted musically. It was the first riff I wrote after we got off the road for Shogun, and it's inspirationally somewhere in between the technicality of Meshuggah and the straightforward groove of Sepultura, but it channels a new intensity. After that song, we weren't afraid to push ourselves out of familiar territory anymore."
"It was the turning point for the music," Heafy reveals. "It's got the simplest chorus we've ever had, and it meant something different to each of us. There's minimalist spin."
However, that simplicity breeds complexity as each song takes on a life of its own. "Inception of the End" drops from a speedy thrash air raid into an anthemic arena-filling refrain, while vocal harmonies climb alongside schizophrenic screams on "Watch the World Burn." "Of All These Yesterdays" takes flight on a propulsive hum and an off-kilter solo. Everything culminates during "Leaving This World Behind," which pairs a classically influenced acoustic guitar with a chilling scream and an orchestral, electronic undercurrent. "Built to Fall" shatters an off-time riff with a hyper-charged hook that sees Heafy channeling a new charisma.
(continued above)
The entire album moves and shifts like one fluid entity. Heafy adds, "There was a conscious effort to tie everything together. Since we pulled back on so much of the musical complexity, it was about the song and we were able to connect on a basic level. It wasn't about trying to insert another big word in the lyrics or another solo. We weren't worried about showing how technical or brutal we could sound. It was about making something great. When I simplified the lyrics, they were able to be translated into multiple definitions, expanding the album to a multi-purposed work of art."
In order to paint this aural pastiche, the band retreated to Paint It Black Studios in Altamonte Springs, FL with production triumvirate Colin Richardson [Machine Head, Bullet for My Valentine], Martyn "Ginge" Ford and Carl Bown in early 2011. The band had already conceived the vision for the album over two years of writing and volleying visual concepts around, so recording allowed the band to continue to experiment. Surprisingly, Heafy didn't turn to his iPod for inspiration though.
"On this record, my influences weren't music," he explains. "My influences were film and directors like David Lynch, Lars Von Trier, Paul Thomas Anderson, and Christopher Nolan. It was also the idea of modern art. I used to not get modern art and museums. I went to The Louvre four years ago and it got me into classical art. Then I started getting into modern art. I like modern art because it completely disregards all of the pre-set rules. Contemporary art can be anything. There is no right or wrong. That encouraged me on In Waves. We made the music we wanted to make."
In order to keep pushing the envelope, Trivium experimented with a myriad of sounds and textures, employing everything from cardboard tubes, fire extinguishers, napkins, and out-of-tune pianos to make sounds. Working with new drummer Nick Augusto in the studio also helped facilitate the process. Beaulieu exclaims, "Nick's a fantastic drummer, and he soaked everything up really quickly. We moved at such a fast pace together and we were able to accomplish a lot more in a short amount of time. It was a very creative, fast-moving, and enjoyable experience. Having that positive environment with Nick made it a lot more fun and it made the songs better."
However, the songs will ultimately continue to get better as their vision comes into clearer focus. Heafy sums it up best. "If a CD is like the soundtrack to a movie, In Waves is the entire film. It's everything. It's the soundtrack, the visuals, and the packaging. It's a full-on visual experience rather than being the standard format. The whole purpose of art is to inspire creativity and other art. No one made the album we wanted to hear yet so we made it ourselves. It's time to take metal to another place and bring in new people."
TOOTHGRINDER
Toothgrinder was created in 2010 by a group of local young kids wanting to hit the music scene with something heavier, broader and more inventive than had been previously done by each musician in the past. Toothgrinder resides in Asbury Park, NJ and has recently won Best Heavy Rock Band (2010,2011,2012) and Best Drummer (2011) by the Asbury Park Music Awards.
On July 22nd, 2011 Toothgrinder released its first official EP "Turning of the Tides", recorded at The Hang Zone, engineered and produced by Paul Ritchie, and mastered by Roger Quinn. The album is available for download on our Band Page.
On December 21st, 2012 Toothgrinder released their sophomore record titled "Vibration/Colour/Frequency". The record was mixed and recorded by The Parlor Mob's Paul Ritchie and Mastered by established DJ Roger Quinn.
Toothgrinder is ready to explode onto the stages of local venues. We are looking to play anywhere and everywhere at anytime, so please message with show opportunities.
We hope to be the unstoppable force in the music scene that everyone wants and desires from a band. With that, we have one last message for you:
LIVE TO GET RADICAL!!!
-Toothgrinder (USA)
WILLS WELLER – DRUMS
JASON GOSS – GUITAR
MATT MIELKE – GUITAR
MATT ARENSDORF – BASS/VOCALS